Janine Weibel
PhD student, psychologist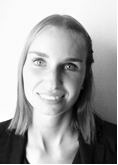 Publications
2020
Reichert, C F; Veitz, S; Bühler, M; Gruber, G; Deuring, G; S. S. Rehm, Rentsch K; Garbazza, C; Meyer, M; Slawik, H; Lin, Y -S; Weibel, J
Wide awake at bedtime? The effects of caffeine on sleep and circadian timing in teenagers - a randomized crossover trial. Journal Article
Biochemical Pharmaoclogy, 2020.
Weibel, J; Lin, Y; Landolt, H; Garbazza, C; Kolodyazhniy, V; Kistler, J; Rehm, S; Rentsch, K; Borgwardt, S; Cajochen, C; Reichert, C F
Caffeine-dependent changes of sleep-wake regulation: evidence for adaptation after repeated intake Journal Article
Prog Neuropsychopharmacol Biol Psychiatry, 2020.
2019
Cajochen, C; Freyburger, M; Basishvili, T; Garbazza, C; Rudzik, F; Renz, C; Kobayashi, K; Shirakawa, Y; Stefani, O; Weibel, J
Effect of daylight LED on visual comfort, melatonin, mood, waking performance and sleep Journal Article
2019.